Use the links below to view or download reports, programs and abstracts from past meetings.
2018
4-9 February 2018
Gordon Research Conference on Oxygen Radicals
Ventura, CA, USA.
11-13 June 2018
2nd Britton Chance International Symposium on Metabolic Imaging / Spectroscopy
Philadelphia, USA.
June 4-7, 2018
19th Biennial SFRRI, hosted by SFRR-E, Sponsored by OCC

Lisbon Congress Centre
Lisbon, Portugal
August 2018
Moving Targets 2018, Association of Pharmaceutical Scientists – USC Student Chapter
6-9 September 2018
8th International Conference on Oxidative Stress, Skin Biology, and Medicine
Andros, Greece.
201719-24 March 2017
Gordon Research Conference Oxidative Stress and Disease
Il Ciocco, Lucca, Italy
2-5 July 2017
EMBO Workshop Mitochondrial Quality Control
Xi'an, China. US$1,000
16-23 July 2017
EMBO Meeting on Redox Biology
Moscow-Saint Petersburg, Russia
13-17 August 2017
Se2017 200 Years of Selenium Research
Stockholm, Sweden
17 August 2017
Moving Targets 2017: Precision Medicine, American Association of Pharmaceutical Scientists–USC Student Chapter
Los Angeles, CA, USA
8-11 September 2017
SFRR-Asia / ASMRM
Xi'an, China
13-16 September 2017
Diet and Optimal Health, Linus Pauling Institute
Corvallis, OR, USA
3-6 October 2017
8th International Conference on Polyphenols and Health (ICPH 2017)
Québec, Canada
15-20 October 2017
IUNS 21st International Congress of Nutrition
Buenos Aires, Argentina
29 November – 2 December 2017
Society for Redox Biology and Medicine (SfRBM)
Baltimore, MD, USA



October 15, 2017
Symposium Polyphenols and Human Nutrition
IUNS 21st International Congress of Nutrition
Buenos Aires, Argentina
Main Website: icn2017.com

September 13-16, 2017
Diet and Optimum Health. The 9th Biennial Conference in Oregon
organized by the Linus Pauling Institute (lpi@oregonstate.edu).
Corvallis, Oregon
September 8-11, 2017
Joint meetings of
The 8th Biennial Meeting of the Society for Free Radical Research-Asia
14th Conference of the Asian Society of Mitochondrial Research and Medicine
Chinese Mit 2017
These conferences were held in the Nanyang Hotel at Xi'an Jiaotong University in Xi'an, China. The conference was organized by Professor Jiankang Liu from the School of Life Science and Technology at Xi'an Jiaotong University.


EMBO CONFERENCE ON REDOX BIOLOGY
16-23 JULY 2017
MOSCOW – SAINT PETERSBURG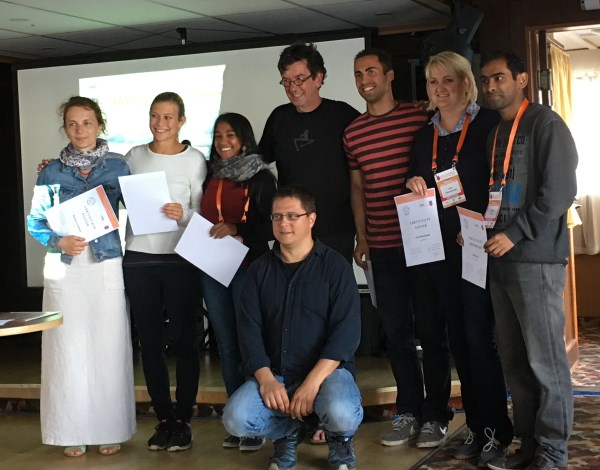 The OCC Young Investigator Awards (as 'poster prizes' or 'elevator talk prizes') at the .
The awardees were Julia Dzieciolowski, Aditya Arya, Bogdan Jovanovic, Dhaarsini
Koneswarakantha, Lena Murschall, and Ekaterina Potekhina with the conference
organizers Vsevolod Belousov and Joris Messens. Helmut Sies, member of the OCC
Board of Directors, was a key speaker at the conference.



July 16-23, 2017
EMBO Conference on Redox Biology
Cruise on the Nikolay Karamzin boat starting in Moscow and ending in Saint Petersburg
Moscow and Saint Petersburg, Russia
Main Website: http://redoxrussia2017.org/

August 13-17, 2017
Se2017-200 Years of Selenium Research
11th International Symposium on Selenium in Biology and Medicine; 5th International
Conference on Selenium in the Environment and Human Health
Stockholm, Sweden
Main Website: se2017.se

9th SFRR Africa and 4th IAMBR International Conference

4th International Association of Medical and Biomedical Reseachers International Conference
July 27 – 29, 2015. Ebene Mauritius
Book of Abstracts

Cellular Environmental Stressors in Biology and Medicine: Focus on Redox Reactions
III International Conference

June 25-27, 2014. Ferrara, Italy
Program


VI International Conference on Polyphenols and Health (ICPH6)

October 16-19, 2014. Buenos Aires, Argentina
Program



Society Free Radical Biology and Medicine-South American Group (VIII SFRBM-SAG)
October 14-17, 2014. Buenos Aires, Argentina
Program



5th Symposium
Nutrition, Oxygen Biology and Medicine
5‒7 June 2013. Paris, France
Program
Abstract
Videos
Photos
Summary




Diet and Optimum Health 2013
May 15-18, 2013. Corvallis, Oregon
Program



The 6th International Niigata Symposium on Diet and Health
October 16-17, 2012. Niigata Convention Center, Japan
Report
Abstract
Photos



Environmental Stressors in Biology and Medicine
II International Conference
October 5-7, 2011. Siena, Italy
Program



4th Symposium
Nutrition, Oxygen Biology and Medicine
June 15-17, 2011. Paris, France
Program
Abstract
Video



International Symposium on Mitochondrial Biology and Medicine & Chinese Mit' 2011
April 7-10, 2011, Xi'an, China
Report



Lipid Oxidation, Human Diseases and Aging
June 16-18, 2010, Torino, Italy
Program
Abstracts
Oral Presentations
Posters



Free Radicals and Antioxidants in Chile 2009
- VI Meeting of SFRBM South American Group
September 27-30, 2009, Santiago, Chile
Report
Photos



Free Radicals and Antioxidants in Chile 2009
- VI Meeting of SFRBM South American Group
September 27-30, 2009, Santiago, Chile
Report
Photos



SFRR-Europe Meeting 2009
- Free Radicals, Health and Lifestyle: from cell signalling to disease prevention
August 26-29, 2009, Rome, Italy
Organizers: Daniela Caporossi (IUSM, Italy) Chair; Fabio Pigozzi (IUSM, Italy) and Stefania Sabatini (IUSM, Italy) Co-Chairs
Report
Photos



7th COSTAM/SFRR (Asia/Malaysia) International Workshop
- Chemoprevention and Translational Research
July 9-12 , 2009, Langkawi, Malaysia
Report
Photos



Diet & Optimum Health Conference
- Organized by by the Linus Pauling Institute at Oregon State University
Mayo 13-16 , 2009, Portland, Oregon
Conference Highlights
Photos



International Course of Toxicology at CNC (Center for Neurosciences and Cell Biology)
- Mitochondria: between Life and Death Lifestyle: from cell signalling to disease prevention
May 5-8 , 2009, Coimbra, Portugal
Report
Scientific Program
Practical Course Program
Photos:
1
2
3



Third Symposium Nutrition Oxygen Biology and Medicine
- Nutrition, Exercise, Energy and Metabolic Syndrome
April 8-10, 2009, Paris, France
Conference Highlights
Program and Book of Abstracts
Photos



4th International Workshop on Comparative Aspects of Oxidative Stress in Biological Systems
March 31 - April 3, 2009, Taxco, Guerrero, Mexico
Report
Poster
Photo
XIV Biennial Meeting of the Society for Free Radical Research-International
October 18-22, 2008, Beijing, China
Conference Highlights
Photos



Mitochondria Stress and Health
October 16-17, 2008, Beijing, China
Conference Highlights



4th International Conference Oxidative Stress-Skin Biology and Medicine
September 11-14, 2008, Andros, Greece
Conference Highlights



SFRR Free Radical School: Lipid peroxidation and free radical-signaling: role in pathophysiology
August 30-September 5, 2008, Spetses, Greece
Contact: Nersrin Kartal-Ozer
Society for Free Radical Research Africa
Mauritius, July 14-17, 2008
Conference Highlights



Free Radicals and Nutrition: Basic Mechanisms and Clinical Applications. Society for Free Radical Research-Europe
July 5-9, 2008, Berlin, Germany
Contact: Tilman Grune (
grune@sfrr-berlin-2008.de
)
International Conference on Environmental Stressors in Biology and Medicine
June 4-6, 2008, Siena, Italy
Contact: Giuseppe Valacci (
valacchi8@unisi.it



International Conference on "Free Radicals and Natural Products in Health"- VII Annual Meeting of the Society for Free Radical Research-India
February 14-16, 2008, Jaipur, India
Conference Highlights



Free radicals and Antioxidants in Human Health, Gene Regulation, and Signal Transduction. Satellite Meeting of the Society for Free Radical Research-India
February 11-12, 2008, New Delhi, India
Conference Highlights



ICMAN4-Fourth International Conference on Mechanisms of Action of Nutraceuticals
October 21-24, 2007, Tel-Aviv, Israel
Conference Highlights
Program



Free Radicals in Montevideo
5th Meeting of SFRBM South American, and 5th International Conference on Peroxynitrite and Reactive Nitrogen Species
September 2-6, 2007, Montevideo, Uruguay
Conference Highlights



2nd Symposium International Nutrition, Oxygen Biology, and Medicine
April 11-13, 2007, Paris, France
Conference Highlights
Abstract Book
Group Photo
More Photo



Third meeting of the Society for Free Radical Research-Asia and Sixth Annual meeting of SFRR-India
January 8-11, 2007, Lonavala, India
Conference Highlights
Group Photo



6th COSTAM/SFRR(ASEAN/MALAYSIA) International Workshop
June 29-July 2, 2006, Kuching, Sarawak, Malaysia
Conference Highlights
Press



Report on 3rd ISNA (International Symposium on Natural Antioxidant, and 2nd SFRR Asia (Society for Free Radical Research Asia)
Conference Report



2005 SFRBM South America
Sao Paolo, Brazil
Conference Report



2004 New York Academy of Science Conference on Vitamin E and Health
More information